NiMH Battery Board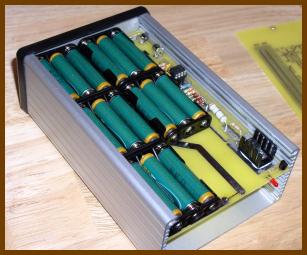 The PPA NiMH battery board is designed to work in concert with the PPA v1 Amplifier Board. It charges the cells while the wall power supply is plugged in, and it powers the amp when the wall supply is removed.
While it was designed with the PPA amp's needs in mind, it doesn't depend on the PPA board. You can use it to power other circuits.
Specs:
6.3 in. × 3.925 in. board (Eurocard size, 160mm × 100mm)

Uses plastic PC-mount battery holders to hold up to 18×AAA or 10×AA

Reverse power supply voltage protection

Uses the On Semiconductor MC3334x charge controller chip to ensure safe and effective fast charging

Fast-charges cells in as little as one hour, followed by a trickle charging step to top cells off and maintain charge

Full charge detected using the -ΔV method

Backup fast charge termination based on charge time or pack temperature

A simpler trickle-only charge arrangement is possible

Indicator LED to distinguish between fast and trickle-charging modes
Where to Next?