PPA v1 Amplifier Board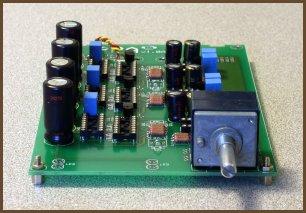 The PPA is ppl's Portable Amplifier. ppl has been building and advocating Jung multiloop type buffered headphone amp designs for a long time.
You can think of the PPA as a major extension of the design concepts that lead to the META42 plus some that appeared in previous ppl amps and some new ones we've pioneered for the PPA. By using a larger board than we allowed for the META42, we have been able to exceed the META42's performance considerably.
We later replaced this design with a newer version primarily featuring a discrete buffer design, plus other improvements.
The pre-made boards are no longer available, but the design files are published below if you want to go and make your own.
Specs:
6.3 in. × 3.925 in. board size (Eurocard size, 160mm × 100mm)

Isolated power rails reduce rail-modulated crosstalk.

Differential-drive topology gives the simplicities of virtual ground without the crosstalk problems that normally go with that.

The signal channels use the Jung multiloop topology for low distortion.

Compatible with most FET-input op-amps.

One to four Intersil HA3-5002 buffers per output channel.

Room for over a thousand mics of rail capacitance even with low-density caps like Black Gates, Cerafines, and Silmics. At the same time, differential drive means the qualities of the rail capacitor bank don't affect the sound of the amp as much as in other topologies.

Reverse power supply voltage protection.

Quiescent power draw ranges from about 45mA on a minimal feature set to about 150mA when maxed out.

Enhanced JFET cascodes for biasing the op-amps into class A.

Switchable bass boost.

Board-mounted ALPS "Blue Velvet" volume control (RK27 series)

Resistors on 0.100" × 0.300" spacing allow the board to be set up for easy experimentation.

A companion NiMH battery board allows for portable amplifiers.

Optional power LED turn-off circuit for indicating that the batteries need to be recharged.
Where to Next?
View the PPA v1 Amplifier Schematic
View the PPA v1 PCB Layout
Download the PPA ExpressPCB Design Files
Part Lists
Checklist
Part Selection Guide
Step-by-Step Assembly Guide
Tweaks
Bass Boost Calculator
Electronics Calculators
Official PPA Site