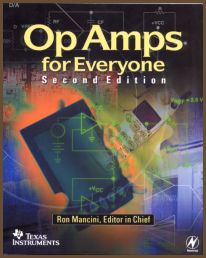 Op Amps for Everyone
by Ron Mancini et al.
Newnes, 2003
464 pages, softcover
ISBN 0-7506-7701-5
$59.99 at Amazon.com (click to purchase)

Book reviewed 2004.09.10
This is an excellent book on op-amps. That's not an idle opinion: I've read many not-so-excellent books on op-amps! The writing style is clear, and though it may lean a little heavy on the mathematics for a newbie's liking, it's necessary to get to the level this book will take you to. As high-end electronics books go, the mathematics in this book is very light.
This book started out as a Texas Instruments application note (PDF, 2MB) and was received so well that they decided to make a print version. The text of the two versions is the same, but I prefer having a paper copy as it's quicker to refer to and the illustrations are better.
The book is very well organized. Each chapter covers a very well-defined topic with as little overlap between neighboring chapters as possible. Many of these chapters could be app notes in their own right, but in addition there are also theory and analysis chapters, like a text book. These chapters aid an untrained reader in bridging the gap between their current knowledge and what an engineer would already have. You will want to have worked with op-amp circuits and have some basic electronics knowledge before starting this book; it's a good "second-course" after reading The Art of Electronics, for instance.
One of my favorite chapters in this book is the one on noise theory. It breaks down the many sources of noise in op-amp circuits one by one in a very easy to understand manner. I have referred to this chapter many times when designing low-noise circuits.
Another of my favorites covers single-supply op-amp designs. This is a compendium of just about every trick available to the designer for designing circuits that work on just one supply yet need to appear as though they have dual supplies. This goes far beyond virtual ground circuits.
The Bottom Line
Since the app note is still downloadable for free, I encourage you to go and get it right now. You can get the paper version later, if you find like I did that you refer to it often. There's just no excuse not to have a copy.
Related Resources
You can get more reader reviews at the Amazon.com link above.
This article is copyright © 2016 by Warren Young, all rights reserved.